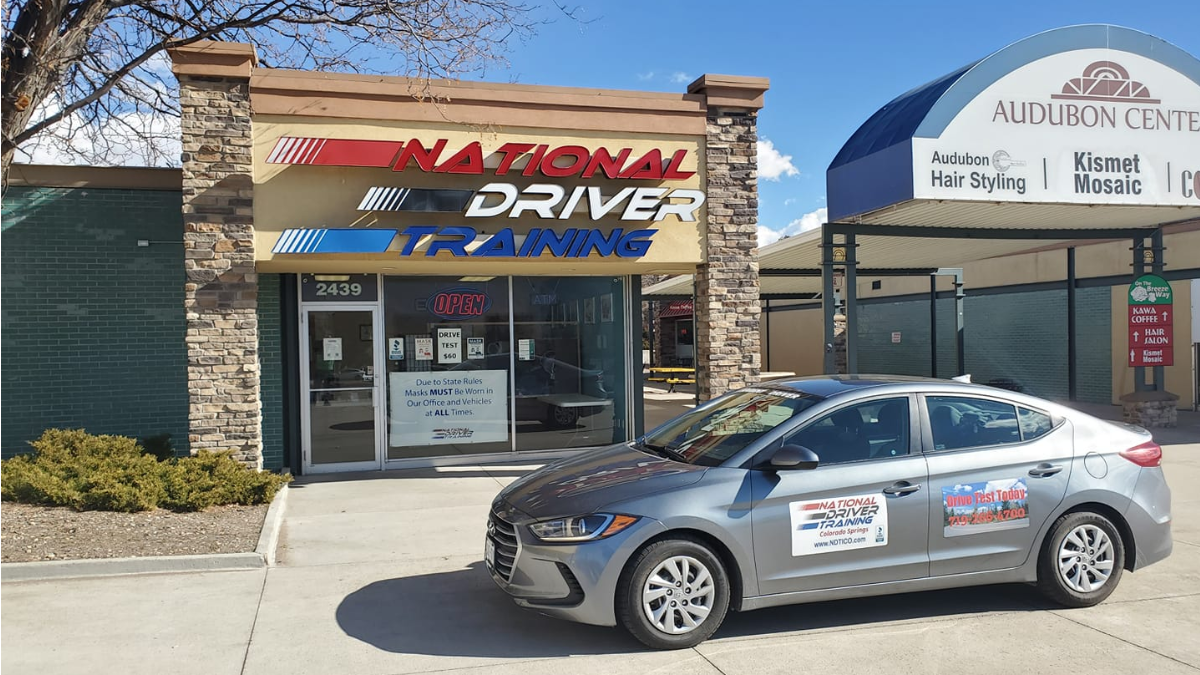 National Driver Training, Colorado Springs
Description
National Driver Training started in 1994 as the first at-home parent taught driver's ed course in the USA using textbooks and VHS tape. We kept up with technology, eventually moving to become the first online driver's ed course and operating in over 35 states.
During this time we became a leading local school in Colorado Springs. In 2006 we expanded into the Denver Metro area, following with Grand County in 2009. In 2011 our headquarters moved to Austin, TX while our office in Colorado Springs continued to develop into one of the busiest 3rd-party testing centers in the state.
In early 2017 our Colorado Springs office was split off into a separate company and purchased by an instructor who had been with the company since 2008. We continue to hold the same commitment to driver safety and creating safe drivers for life.
Programs and Classes
Our instructors are some of the most experienced in the industry. We train our staff very well and have much better staff retention than most driving schools in the state. Instruction is customized to fit your needs. We start where you are and move you where you need to be, progressing as you gain skills. We do not use a cookie-cutter checklist approach like most schools where all students drive the same path and spend the exact same amount of time doing the same thing. We progress when you are ready to move on. All of our lessons are private. We do not force you to sit in a car and "observe" while another inexperienced driver has their lesson. It does not help you and it puts you at an unnecessary risk. This also means that every hour of training you purchase is actual training – 6 hours of lessons is 6 hours of driving. All of our cars are average 4-door sedans with 5-star safety ratings. It may be fun to drive a cool car on lessons, but safety and driving skill development are our top priorities. Skills learned in our cars translate very easily to cars of different size and shape. Our cars are equipped with an instructor brake and mirror on the passenger side. All our cars are clearly marked with "Student Driver" and "National Driver Training" for the student's safety. We keep current with the driving and safety studies to ensure our methods are the safest driving practices. Insurance companies recognize our company and give discounts to those who complete lessons (please contact your agent for details). We schedule lessons in 90 minute blocks. We welcome people with special needs. Our instructors are patient and will adapt instruction as needed. All of our lessons include a written evaluation for you to reference to see where you are and what you need to practice Our standard packages are 1 1/2, 3, or 6 hours of lessons, but we are happy to sell you as many hours as you would like. We have many students who already have a driver's license who just want to come in and work on specific skills (like parking or merging). Sometimes we have students who are licensed drivers but have either not driven in many years (we have had several students in their 80s who had not driven in 20 or 30 years and just wanted to make sure they were going to drive safely) or been in an accident and want to build up their confidence. As long as you have a permit or license, we are happy to train you!" You must have purchased your lessons and have your permit before scheduling lessons. Lessons are available Monday-Saturday.