Description
DFW Driving School is proud to offer quality yet affordable instruction for all areas of Dallas metropolitan. We are your complete Driving Solution Center from getting Learners Permit till you get yours Driver License. 
Our instructors are professional, patient, friendly, reliable, and are licensed by the State of Texas. We have been serving Texans for over 20 years. 
All of our services include DPS ROAD TEST for both Teens and Adults. Teens Driver Education course, Adults Driver Education, Adults 6 Hours Permit Class, Teens and Adults Road Test, Defensive Driving course for ticket dismissal and 10% insurance discount, Door to door pick up and drop off service . Call DFW Driving School for all of your driving instruction needs.
Instructors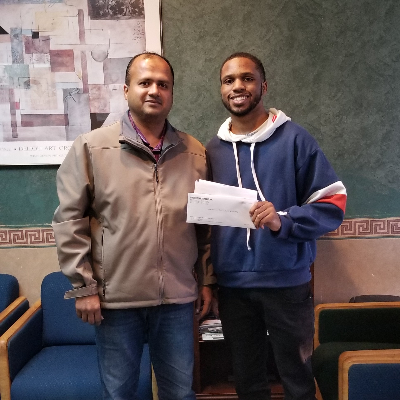 Tariq Ha
Programs and Classes
Teens Driver Education

Student is required to complete the following at the Driving School:

32 hours of classroom (classroom sessions 1 – 16)
Permit Written Test (taken by in classroom session # 4)
DE-964 Permit Certificate (provided by driving school)
In-Car instructions (7 hours of driving & 7 hours of observation)
DE-964 Road Test Certificate (provided by driving school)

Student is required to complete the following with Parents/legal guardians:

A full-course includes:

32 Classroom Hours
14 In-Car hours
Permit Test
Vision Test
DE-964 (DPS Certificate for Learner's permit)
DE-964 (DPS Certificate for Road Test)
Insurance Discount Certificate

Requirements to Sign up for the class:

An Application signed by a Parent/Guardian
A payment in cash, check or Credit Card (3% Fee my apply to Credit Card)
A black ink pen and a notebook should be brought to all classes

If you are enrolled in a driving school classroom portion or are about to finish the online classroom requirement of your drivers ed training and like to transfer to the DFW Driving School for an in-car driver training instruction, this is the perfect course to enroll in. It is important to be sure you have completed the classroom or online instruction of your current course or school. Once completed, you can enroll in our State approved in-car course to complete the behind the wheel training requirements. If you have already completed classroom portion with either an online course or another driving school and want to transfer to the DFW Driving School for in-car training portion, this is the course to enroll in. The Classroom portion will need to transfer the DE-964 certificate to DFW Driving School. Contact your Classroom portion provider to transfer this certificate to DFW. The Behind-The-Wheel portion contains 14 hours in-car training ( 7 hours behind the wheel + 7 hours observation). YOU WILL HAVE 7 DRIVING APPOINTMENTS THAT WILL BE 2 HOURS EACH APPOINTMENT. 1 HOUR YOU WILL BE BEHIND THE WHEEL THE 2ND HOUR YOU WILL OBSERVE WHILE ANOTHER STUDENT IS DRIVING. Once all the drive times are completed, an official State Certificate DE-964 will be issued to the student as an evidence of completion of In-Car portion.

Lane change Emergency-brake Quick stop Right & left turns Traffic signs Signals Backing up Proper speed Coming to a smooth stop Freeway Driving U Turns Night Driving and much more. We offer Adults Driving Classes with pick up and drop off service, in some parts of North Texas (distance restrictions may apply).

The Adult Driver Education (A-DE) course is six hours from 8 00 a.m. until 2 00 p.m. for the purpose of obtaining a Learner Driver's License. Persons between the ages of 18 – 25 are required to take this course to obtain a Texas Learner's Driving License. The course is held every two weeks on Saturday and giving the opportunity to take the Learner's Permit Test and Vision Test at our school location instead of taking it at the Department of Public Safety (DPS). 99% of the adults who take our course pass the permit test on their first try. But if you don't pass we guarantee to help you understand what you missed and let you retake the test as many times as needed without any extra charges. The DPS allows testing 3 times before you must pay another $25.00. Upon successful completion of the A-DE course an official State Certificate will be issued for purposes of presenting proof of completion to the DPS. Adults between the ages of 18 – 25 are required to take this course in order to apply for a driver's license. This course is recommended to anyone age 25 & above. Person's completing this course are not required to take the Learner's Permit Test at the DPS.

DFW Driving School is one of the fist school in North Texas Authorized to Provide Teens & Adults Driving Test. Our instructors are trained and authorized by Texas Department of Public Safety to administer the Road Test. We are proud to play our role is making sure to keep Texas HTS safe for all.
RAJKUMARI TALREJA
9 months ago
Abhishek Gupta
10 months ago
Stephen Miller
2 years ago